Beckenham IT Services offers a comprehensive range of Beckenham iMac repair and Apple Mac desktop computer maintenance services customised to the requirements of both home users and businesses. All our technicians are well trained and experienced and we have been providing reliable iMac technical support to customers across Beckenham for the past 7 years. We offer repair and upgrade services for all models of Apple iMac including iMac G3, iMac G4, iMac G5 and Intel based iMac (Polycarbonate iMac, Aluminum iMac and Unibody iMac).
At Beckenham IT Services, our engineers are ready to meet your Beckenham iMac repair requirements and they will assist you in troubleshooting, repair, replacement, upgrade, installation, network setup, hard drive data transfer and complete desktop computer maintenance services. If your iMac is not starting up the way it used to or it frequently crashes or freezes, we will make a diagnosis of the issue and provide the right solution to restore your iMac to its original functionality. We also fix a wide range of iMac issues, both common and complicated, including iMac won't turn on, slow performance, intermittent blank screen, kernel panics, dark spots on screen, defective memory modules, flickering displays, logic board failure, distorted video display, a flashing question mark, a broken folder icon, CDs or DVDs get stuck, iMac shuts down unexpectedly, hard disk is full, system won't recognise FireWire or USB devices, mouse and keyboard stops working, cracked or damaged screen, cracked glass, audio jack issues, sleep and wake issues, iMac wireless connection issues, defective keyboard and other component level logic board issues. We offer genuine, warranty-based part replacement for all types of damaged or defective iMac hardware components and parts.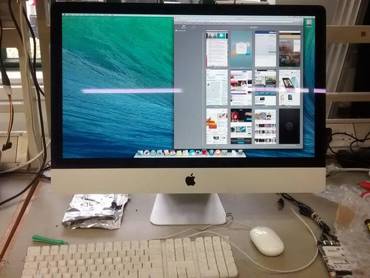 Same Day Beckenham Apple iMac Computer Repair and Support
Our expert Apple iMac repair and support services include:
Logic board repair and replacement
Glossy LCD screen repair and replacement
8x DL SuperDrive replacement
Hard drive upgrade / replacement
iMac memory upgrade / replacement
Keyboard repair and replacement
iMac data recovery services
All of our Apple iMac desktop computer repair and upgrade services are carried out in-store within our state-of-the-art repair facility and this enables us to offer quick turnaround for almost all repairs. We offer flexible local drop off as well as mail in repair options for our customers throughout Beckenham. We are open six days a week, from Monday through Saturday, 9:00 am to 4.30 pm.
To schedule an iMac repair service for iMac G3, iMac G4, iMac G5 or Intel based iMac (Polycarbonate iMac, Aluminum iMac and Unibody iMac), please give us call on 020 8658 4366 or forward your request to us at info@computerservicesandrepairs.co.uk.