Same Day Beckenham Apple MacBook Repair and Upgrade
Beckenham IT Services offers Apple 13.3 inch MacBook notebook repair and upgrade services with quick turnaround time to all types of Mac users in Beckenham and surrounding areas. We have trained specialists with competences ranging from component level logic board repair to hard drive data recovery services. We ensure quality and value in all MacBook technical support services for home users and businesses.
At Beckenham IT services, our skilled Beckenham MacBook repair technicians use advanced tools and equipment to diagnose both hardware and software issues with your 13.3 inch Mac notebook computer. Our Apple laptop repair technicians are able to work with any issue starting from operating system issues, system security, compatibility issues, upgrades or installation to any such issue that prevents you from efficiently operating your MacBook efficiently. Some of the common MacBook issues we troubleshoot and fix include MacBook not waking up from sleep, MacBook won't turn on, kernel panics, bad RAM slots, MacBook freezing issues, flashing folder with question mark on Mac, battery does not charge, sticky or bouncy trackpad, bad or failing sectors on the drive, logic board failure, stuck CD or DVD drive, non functioning USB or power ports, fans issues and MacBook overheating, liquid spilled issues and Internet connection issues. With a large stock of genuine Apple Mac parts, we will help you to replace damaged or malfunctioning MacBook parts.
Our professional MacBook notebook repair support includes the following:
MacBook LCD / LED screen replacement
MacBook glass replacement
Memory upgrade or replacement
Hard drive upgrade or replacement
MacBook battery replacement
Screen with housing replacement
Exterior casing (top case / bottom case) replacement
DC-in board repair and replacement
Keyboard repair and replacement
Logic board repair and replacement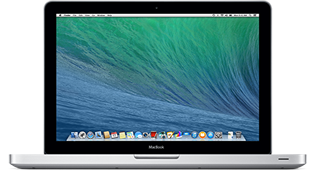 Specialists in Onsite Apple MacBook Notebook Repair and Support
You can visit our Beckenham Mac repair store to experience our quick service turnaround time. Once you have brought in your Mac, we will carry out a thorough diagnosis and provide you with the repair options. We also provide mail-in repair support for our customers. We are open six days a week, from Monday through Saturday, 9:00 am to 4.30 pm.
Please contact us on 020 8658 4366 to receive a free Beckenham MacBook repair quote. You can also send your queries to us at info@computerservicesandrepairs.co.uk.